OSPICON
The creators of technology which helps protect lives
Learn More
Who we are
Market pioneers and inventors with a vision
We are market pioneers and the inventor of the BreathOpticsTM fibre-optic sensing technology. We are focused on developing healthcare and homecare products for infants and elders like the award winning Sleep-Mat, a patented baby sleep monitor. With a strong grounding in R&D and manufacturing, our product reach the market globally through a credible network of brand partners.
OSPICON
The heart of a vision
We respect life and are driven to protect it. This common understanding is deeply engrained in our culture and shapes the direction of what we do. Our purpose is to harness the human value of technology, applying solutions designed by engineers who are driven by a desire to protect lives and empower families with a peace of mind. Featuring two overlaying crosses in red and purple, the OSPICON logo represents products that assure users safety and wellness, and promise a creative potential that knows no boundaries.
Meet our team
Driven by vision,powered by industry experience
Powered by some of the most experienced veterans in electronic design, mass manufacturing and technologies application, the OSPICON brand is a trusted symbol driven by a vision of industry excellence and quality.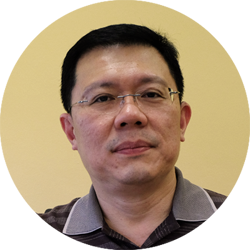 Desmond Ng,
CEO
A well-respected name in the consumer electronics and wireless technology R&D domain, Desmond led the innovation team behind BreathOptics™, a patented and multi-awarded technology. He brings his expertise to OSPICON, further consolidating our domain knowledge in consumer electronics, healthcare and wellness product development.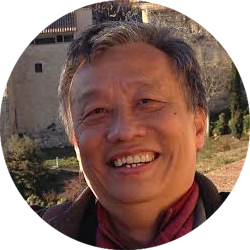 Frank Fong,
Director of Marketing
As part of the innovation team that invented the world's first Baby Sleep Monitor in 2010, Frank's reputation is synonymous with excellence in marketing, business and product development in the IT and electronics industry. At OSPICON, Frank is in charge of our strategic marketing and business development program, reinforcing our position as market leaders.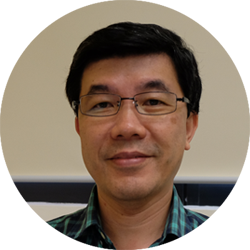 Derek Chong,
Director of Engineering
Derek Chong has over 20 years of experience in the electronics industry, specializing in product development. Derek also holds a Master of Science in Electrical Engineering conferred by the reputable National University of Singapore (NUS). As Director of Engineering, Derek is bringing our engineering capabilities to the next level of excellence.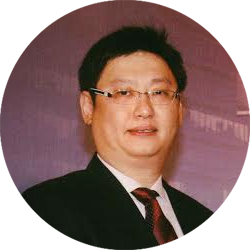 Victor Chan,
Advisor
Victor was educated at the prestigious Purdue University, USA and graduated with a double degree in Computer and Electrical Engineering and Industrial Management. His work and vigor received industrial recognition and he was awarded The Hong Kong Young Industrialist Award in 2006. Victor Chan also has over 25 years of experience in design, manufacturing and management and has been the founder, ex-Chairman and ex-CEO of A-Max Technology Co. Limited since 1996
CAPABILITIES
Built to empower
We offer a complete range of product development services from R&D to sales and marketing of cutting edge solutions with in-depth experience spanning from consumer electronics to healthcare wellness projects. Our team also has intimate knowledge of the supply chain and is equipped to provide necessary support for its partners. Here are some of our capabilities:
Type Testing
(FCC, CE, etc)
Safety is always a top priority. We pride ourselves in creating product solutions which conform to international safety, type approval and qualification standards.
Smartphone Apps
(Android and Apple MFI)
We are knowledgeable in building apps for Android and Apple MFI
Embedded Design
(Hardware and software)
We have immense experience in creating innovative embedded low power product solutions from hardware designs to firmware applications for giants like Philips Design and Plantronics.
Wireless technology applications
Our team members have worked on projects involving Bluetooth, Wi-Fi and proprietary RF application since 2001, as well as Voice & Touch interface technologies implementation.
Production Testing Software
Our abilities include developing full suite production testing software for product manufacturing.
OUR PRODUCTS
BreathOpticsTM
BreathOpticsTM is groundbreaking optical fiber based technology that breathes life into OSPICON's range of products, from the Sleep-Mat for infants to applications enabling the holistic capture of wellness in Eldercare. Safe, reliable and precise, there is far-reaching potential for BreathOpticsTM to be applied to a new range of intelligent consumer healthcare products to meet critical consumer healthcare needs.
Learn more about BreathOptics
TM